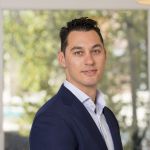 Stephan Dumas
Enthusiastic, Loyal, Results oriented, Attentive
Recruitment Consultant
Stephan Dumas is a Recruitment Consultant and HR professional at Projob. What is it that drives him as a person and motivates him
When Stephan starts to talk about football you come to realise that he is not only a huge football fan but also a fanatical football player himself.
"The tournament I won 3 years ago with our football team was a day that I and my teammates will never forget. The run-up to this tournament and ultimately celebrating our victory was an unforgettable moment! How driven am I when it comes to football? I will be in the middle of watching a match and roaring out how I would do it better, even though I know the reality is that it is harder than you think!"
Stephan recently completed a talent management course which inspired him and showed him a direction he would like to expand upon in the future. What inspires him personally? His work, a nice evening spent with family, friends and visiting festivals.
This combination of what fascinates and enthuses him in equal measure goes hand in hand with the role he feels most comfortable in within a team - knowledge-sharing and joking around. It also tallies with how others see him – as loyal, helpful, a connector of people and involved.