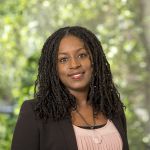 Shereen Leissius
Attentive, Sensitive, Practical, Careful, Results-driven
Senior Career Coach & Trainer
Shereen Leissius is a senior career coach and trainer at Projob as well as our image stylist. This last training course added an extra dimension to her work as a coach: "My image styling training taught me to view people in a totally different way. I gained an insight into how you can harmonise both the inside and the outside of a person. Colour and colour combinations play a vital role in this"
At Projob Shereen has naturally assumed the role of the one who pays attention to details, monitors the to-do list and keeps the checklist up to date.
If you ask Shereen what motivates her to work or what she is proud of she says: "By looking closely at the colours a person wears, their clothing style and the impression they make with their image, I can give tailored tips & tricks. It makes me happy to see people beautify themselves after following my advice!
People who know her well consider her as an empathetic listener, as someone who can explain things well and can cook well!
To relax, she likes to read, listen to music and watching Netflix series.