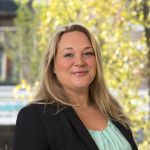 Barbara Penninx
Multitasker, Reliable, Proactive, Analytic
Chief Digital & Process Officer
Barbara Penninx is Chief Digital & Process Officer at Projob and fulfils the role as all-round source of information, problem solver, and critical questioner for everyone who works at Projob. The training course Lean Management which she enjoyed hugely was clearly made to measure for her! What she enjoyed the most: "It was fantastic to be able to implement improvements in efficiency and productivity whilst prioritizing the (internal and external) customer."
It is not so surprising that Barbara has to refrain from taking over when she sees people struggling with computer skills.
People who know her well see her as versatile, stable and a practical thinker with humor. When you ask Barbara what she can look back on with pride she says: "Before I joined Projob (the second time around) I had set up my own business with a partner. I ensured that all business processes were set up and were running flawlessly. When we generated our first turnover it was such an amazing feeling. Everything had worked out and we were delivering quality. I was so proud!"
If you give her Barbara large quantity of data to analyse and summarise or let her invent processes, she loses all track of time. She relaxes by walking the dogs and spending time with her retired horse.